This is my first attempt at tactics and strategy, and is really just my opinion based on the games I've played so far. I want to build up a topics for each objective. Please add your comments and experiences on each topic, and I will try to add items to the maps as appropriate.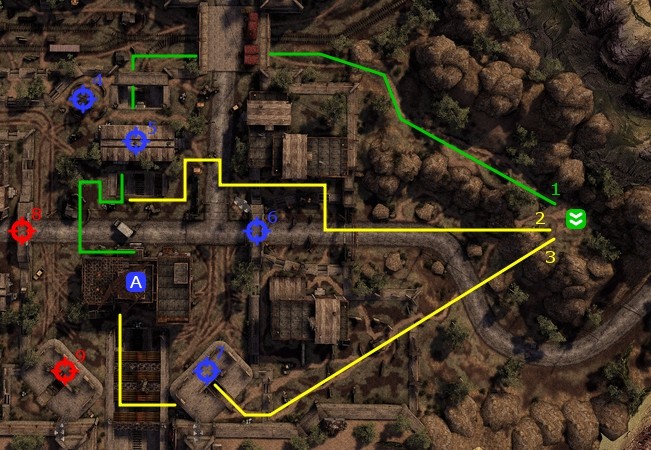 Attack Routes:1.
This is my favourite route of attack on this map, S.V.E.R. very rarely have anyone guarding the rails that go underneath the objective. So flanking in this manner allows you to get very close to the objective before breaking cover. Also if you have snipers in your squad they can follow and go to sniping spots (
4.
and
5.
) from there they can cover your break for the objective, as well as protecting the objective once you have taken it.
2.
and
3.
Both routes have a lot of cover but they also have a lot of open areas to cross and are nearly always well guarded.
Friendly Sniper Positions:4.
This is a tower that is close to the area where the paratroopers are dropped. This has good sightlines to the back of the objective and the routes that S.V.E.R. have to take from their spawn point.
5.
You can reach the top of this roof by jumping of the tower (
4.
). As with the tower it has good sightlines to the objective as well as more options to protect advancing troops on routes
1.
and
2.6.
The bridge is a good place to snipe from as it has a lot of forward protection, that can be shot through. The big downside to this position is that it is quite easy for advancing S.V.E.R. troops to get to your flanks and kill you, so it is best to only use this position when the objective is taken.
7.
Similar to
6.
in this position you can be easily caught out by advancing S.V.E.R. troops, again it is a good position to help defending the objective once it has been taken.
Enemy Sniper Positions:8.
This is the most common sniper position on the bridge, they have a good view of any attacks up the middle.
9.
As with
8.
you can often find snipers here taking out anyone attempting to get up the stairs on this side of the objective.